Student Recreation Center
Administrative Staff
The administrative staff at the Student Recreation Center has more than 35 years of experience in the fields of fitness and recreation to meet the needs of our members. Our goal is to have a hands-on approach to making sure you have a positive experience while using our facilities and participating in our programming. Scroll down to find out more about our administrative staff members.
Derek Walters, Director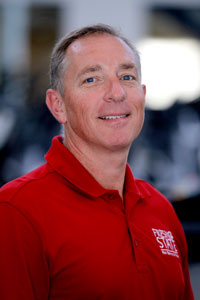 Derek oversees all Student Recreation Center operations, programs, and services and directly supervises the program coordinators and support staff. Prior to becoming Director, he served as Associate Director - Facility Management for Recreational Services at Kansas State University from August 1994 to June 2005. Derek is honored to hold the distinction of being the first director of the Student Recreation Center.
Education: B.S., Psychology, Kansas State University & M.S., Health and Physical Education, Kansas State University
Bio: Derek was born and raised in Leavenworth, Kansas where he was the only boy out of four children. He played football, baseball, and basketball through high school. Throughout high school and college Derek worked for Leavenworth Parks and Recreation department and umpired baseball and softball at nights in the summer. In the winter he enjoyed refereeing basketball. While at K-State, Derek worked for Recreational Services as a Building Supervisor, Intramural Official, and eventually Graduate Assistant. Upon completion of his graduate degree Derek served as the Assistant Director - Intramural/Extramural Sports at William Paterson College, Wayne, New Jersey from August 15, 1986 to July 1, 1988. Derek became the Assistant Director - Programs at Saint Louis University, St. Louis, MO from July, 1988 - July, 1991. Derek was promoted to Associate Director of Campus Recreation where he assumed the duties of overseeing the programming area as well as facility management from July, 1991 - July 1994. Derek is a member of the National Intramural/Recreational Sports Association (NIRSA) where he is a Certified Recreational Sports Specialist. He has also served as a NIRSA State Director and has presented at state, regional, and national conferences. He was awarded the New Jersey NIRSA Service Award 1986-1988.
Personal: Derek and his wife Loretta have two adult sons, Derek and Drew.
Lerin Winchester, Recreation Program Manager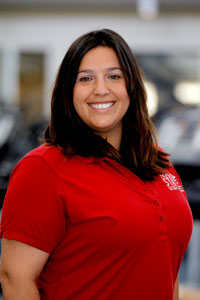 Education: B.S., Recreation Administration, M.A. Education - Higher Education
Bio: Lerin started as the Intramural Coordinator in August 2007. Prior to beginning at the Rec Center, she served as the Intramural Program Coordinator at Fresno State since 2005. Lerin played soccer here at Fresno State for three years. Her goal here at the Rec Center is to provide an athletic outlet for the non-collegiate athlete. The wide variety of programs offered each semester through Intramurals will afford students such opportunities.
Personal: During the summer, Lerin is a river guide at Kings River Expeditions. She also plays midfield for a traveling soccer team.
Craig Parichan, Intramural Coordinator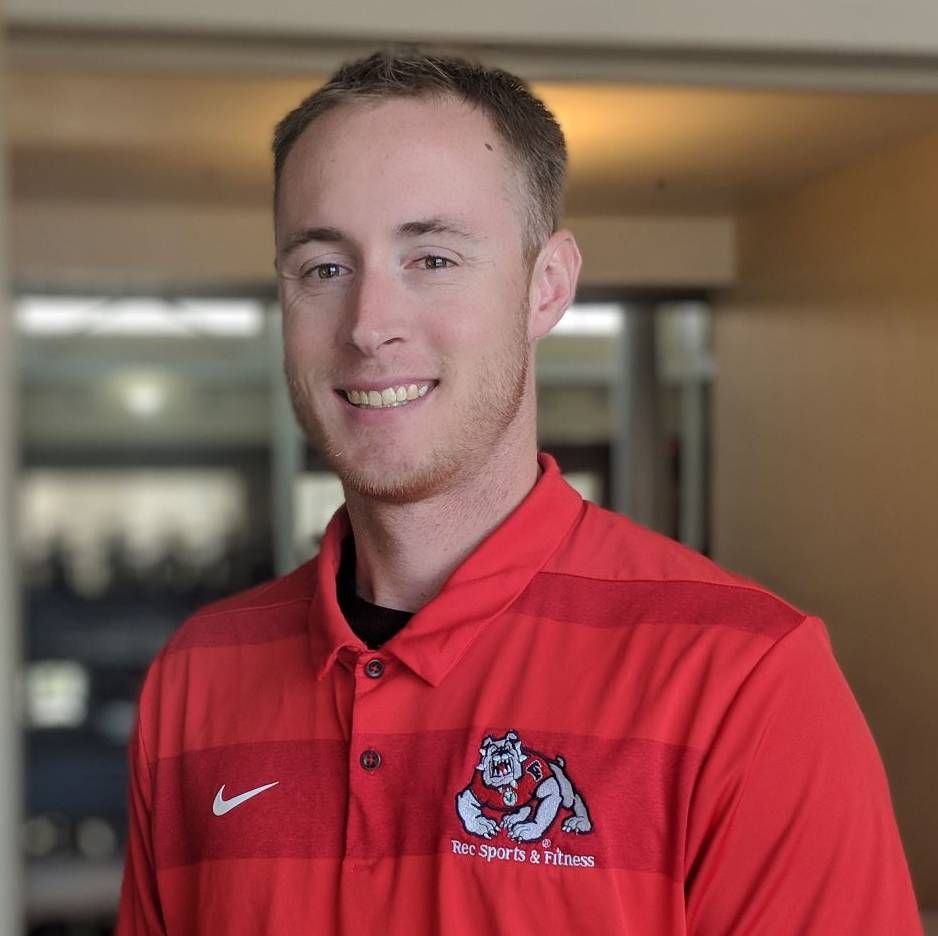 Education: Bachelor of Science in Business Administration – Sports Marketing
Bio: Craig started working at the Student Recreation Center in 2013 as an Intramural Official and was promoted to Program Supervisor in 2015. With the experience he gained by officiating Intramural basketball, Craig is now a California State playoff high school official and also a Women's Junior College official. Craig has over 10 years of work experience in the Sports industry ranging from the professional level to minor league. Craig worked for the Fresno Grizzlies for 8 years holding different roles every year. The last role he held with the Fresno Grizzlies organization was in Clubhouse and Player Operations. During the 2016 National Football League season, Craig interned with the San Francisco 49ers in the Corporate Partnership/Game Day Activations department. Craig also works for the 2018 United Soccer League Expansion team the Fresno Football Club as their Game Production Coordinator.
Personal: When not at work, Craig enjoys spending time traveling and attending different sporting events.
Eric Acuna, Custodial Supervisor